In mid-March, most hospitals in the United States began to cancel elective surgeries in response to the COVID-19 pandemic to reduce the risk of the infection spreading.
This decision had a significant impact on hospitals' bottom lines. According to the April 16 issue of Becker's Hospital Review, the typical hospital – with 11 operating rooms (the U.S. median) and a surgical average of 58 cases per month (the U.S. average) – likely cancelled in the neighborhood of 60% of those elective surgeries. In that average hospital, that equates to 375 surgeries that didn't happen. Some hospitals have expressed losing multiple millions of "typical" revenue per month to the cutback in cases.
Since COVID-based restrictions began lifting in May, hospitals have found themselves in a very difficult situation playing catch-up on these elective procedures. Many outpatient surgery centers were not hit as hard by COVID-19 restrictions and have been able to continue operations somewhat near normal case volume.
As hospitals strategize ways to quickly rebuild surgical revenue, Keckler Medical offers two proven systems that increase efficiency, improve patient safety, save time and reduce costs.
SteriCUBE saves time, money
The first is the SteriCUBE system, which offers a measureable improvement in the processing of instrument trays. SteriCUBE's advantages include:
Improved Patient Safety. It removes the risk of having holes in the blue wrap, wet packs or contaminated trays that need to be re-sterilized.
Increased Productivity. It eliminates prep time devoted to wrapping instrument trays in blue wrap as well as the time needed to check each wrap in the OR for holes. It also allows hospitals to keep 12 "surgery-ready" instrument trays that can be grouped together and stored for up to 30 days locked in the cube. Faster start times can lead to improved morale of surgeons and the surgical staff.
Dramatically Reduced Costs. It lowers costs associated with materials and labor including wraps, corner protection, linen, individual rigid containers, technician overtime expense, bio-hazardous waste and workers comp injuries.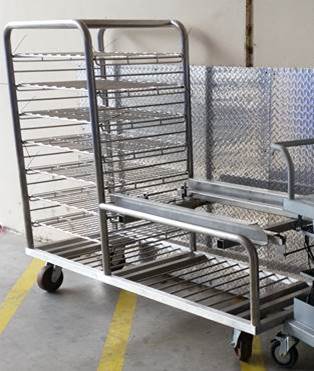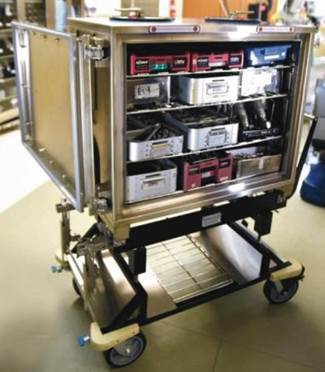 "We have been able to reduce set up time in the OR down to 2 minutes and 18 seconds from our average of 30 minutes,"
OR Cockpit offers instant feedback
The second operating room system that can help hospitals improve surgical suite management is Skytron's
OR Cockpit
. It is a visual data management tool that allows surgery teams and managers to access information in real time via a computer dashboard. OR Cockpit addresses four of the main challenges that every surgical team faces:
Patient Safety
Surgical Site Infections
OR Utilization
Procedure Protocol Compliance
The system ties into a hospital's electronic medical records and uses touchscreens to tie together multiple data points, timers and electronic checklists to provide constant real-time feedback to the OR team. It uses the easy-to-remember "stop light" indicators (
green = good
, 
yellow = caution
, 
red = problem
) during the surgery, allowing the surgeon and the team to make instant course corrections to improve patient outcomes.
At the end of the operation, it assigns a patient safety score. It also provides a thorough data reporting system, allowing hospital leaders to review information and provide objective feedback to the surgical team.