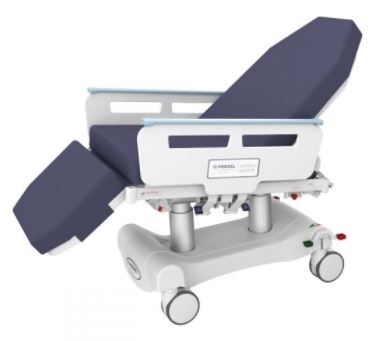 Contour Recline Stretcher Chair
A versatile chair to streamline medical procedures and recovery across many healthcare facilities.
Multi-purpose treatment and transfer chair for ER, OR surgery, treatment rooms and medical clinics
18 – 33 inch height range with lie-flat and forward / reverse tilt
30.7 x 45.3 inch overall (68.9 inch lying flat)
25.6 inch wide seat with 4 inch wider option
4 inch thick premium, removable mattress
User friendly, long life battery operation
660Lb weight capacity
Glide-away dropsides with no protrusions
Steer/brake pedals on both sides
Sockets on all four corners for many accessories
Twin wheel 6 inch castors with double steer
Choice of armrest colors for easy identification
Make better use of your valuable space and streamline your department with Contour Recline Stretcher chairs. They are easy to move in and out of tight areas meaning a higher patient throughput and reduced waiting times. Patients can be positioned easily from sitting upright to a full recline, or lay completely flat with the stability of twin columns under the chair which can be used for CPR or specialized procedures. We've taken care with every aspect of design to ensure comfort and efficiency for both the patient and care giver. Pop-up push handles ensure best operator positioning while preventing transfer movement to the patient. The Contour Recline can be tailored for a range of specialized areas or as a general purpose stretcher chair.