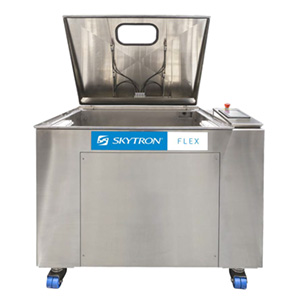 Flex Ultrasonic Washer Disinfector
Load, Start, Clean, Repeat
The Skytron Flex Ultrasonic Washer was designed with versatility and throughput in mind. This surgical instrument washer-disinfector can process large loads with non-proprietary trays, and run mixed loads of cannulated, non-cannulated, and robotic instruments.
An Efficient Solution
"The Skytron Flex has been a lifesaver for our department. The efficiency of throughput and being able to sonicate and wash along with a thermal rinse cycle in less than 40 minutes has been a gamechanger for us. Being able to process up to 24 robotic arms in one cycle as well as using our existing trays to place orthoedic items into the unit reduces overall throughput time in decontamination."
Loraine Durigan ST,CRCST, CHL, CIC, CER, AGTS
IAHCSMM 2020-2022 Secretary/ Treasurer
AdventHealth | Altamonte Springs | Manager, Sterile Processing
Clean All Ultrasonic Approved Instruments in One Cycle
Versatile design with the ability to irrigate cannulated instruments such as the da Vinci products and non-cannulated instruments in the same cycle.
Save Time and Money
The Flex Ultrasonic instrument cleaner can wash and disinfect up to 125 pounds of instrumentation using your current ultrasonic trays.
Achieve Optimal Disinfection Standards
The Flex Ultrasonic surgical cleaner only irrigates with fresh water and detergent and drains contaminated water after each cycle.